More Than a Business: A Lifelong Devotion to Restoring Mercedes-Benz
More than anything, our intention is to foster a long lasting relationship with our customers, we treasure the needs and wishes that each customer brings, that is why our scope of work includes body restoration, engine work, complete interiors and restomod customization are all included in the work we do here at Unique Cars of Palm Beach. This program brings back to life Mercedes-Benz 280SL, 230SL, 560SL, 280SE Coupe and Porsche. Furthermore, we offer a variety of services, including:
            This process involves the restoration of the vehicle's body, which includes: 
Disassembly: The vehicle is completely disassembled, removing all necessary parts and components.
Sand Blasting (if necessary): If needed, sand blasting is used to remove any corrosion or imperfections on the surface.
Metalwork: Any necessary work on the sheet metal is carried out, such as repairs, restoration, or modification.
Body Work: Body work is performed to achieve a smooth and uniform surface, repairing dents, scratches, or other imperfections.
Paint: Paint is applied using the original Glassuri paint brand in period-correct colors for the vehicle. This includes the application of primer and three coats of clear enamel to achieve a perfect and durable finish.
INTERIOR OF THE MERCEDES-BENZ CAR
Interior is completely disassembled, restore seat frames sandblast and apply protective paint, install new Horsehair pads or Use of Special Molded Foam (customer Preference), the door Panels are laser cut new in PVC then covered in Leather using a a high-temperature oven to adhere perfectly for a long-lasting finish, to factory specification.
Dashboards are one of the most important and difficult parts to restore, we use full Skived leather just like the factory did 50 years ago, giving an unmatched finish, very few companies do this around the world!
The carpet we use Correct Clothbound Square wave carpet and vinyl Loop carpet depending on the year and model of the car to make it period correct, laser cut for perfect fitting.
Soft top we use period-correct German canvas colors for a perfect finish and fitting High-quality clear plastic, we take apart the soft top frame, replace seals and restore it to the original.
Woods are restored to factory finish.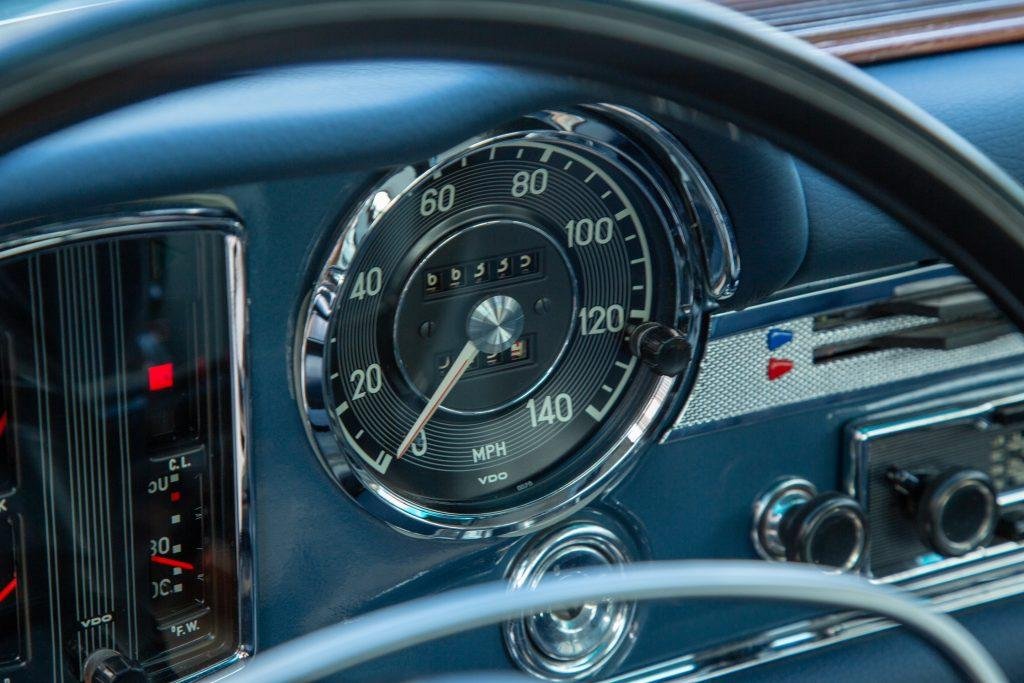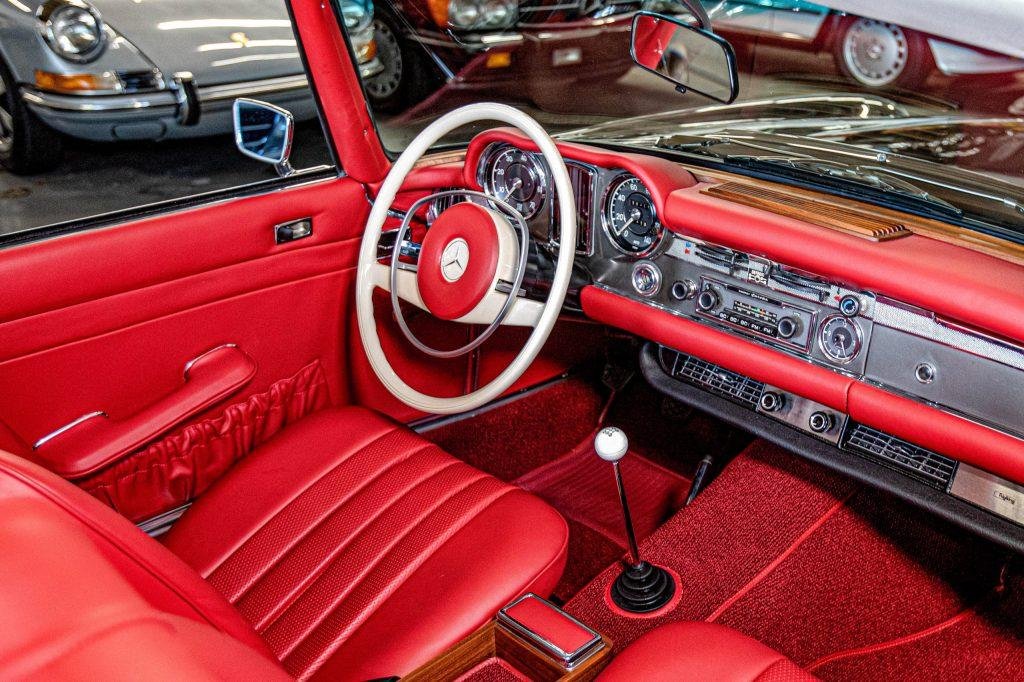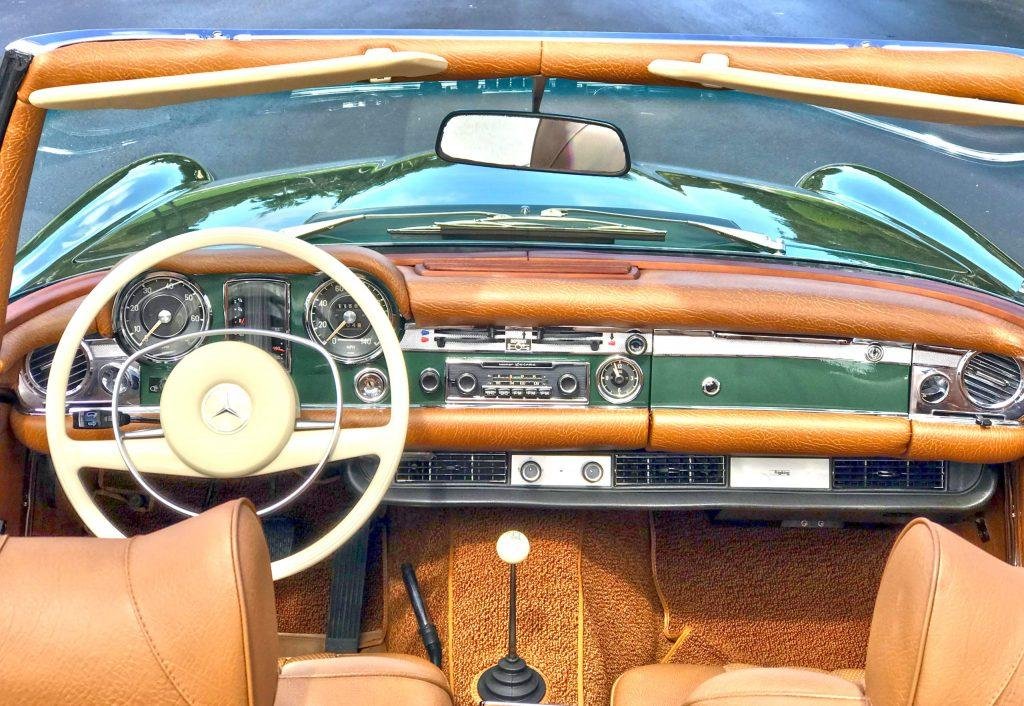 Engine: we measure the compression and test it before removing it from the car, if needed the engine is sent to the only shop authorized by Mercedes Benz Classic Center for rebuild, if we have a perfect engine we take it aparts and resealed completely for perfect finish and functioning, the fuel pump is completely restored and tested on a bench before goes into the car,New radiator core, new water pump,New hoses and belts, Electronic ignition can be added at customer preference,all of the fuel lines and engine components are Yellow Zinc Plated as per factory standards for a perfect look as was intended when new.
Transmission is rebuilt and resealed.
Exhaust system all new
Airconditioner is fully rebuilt and the customer has a choice of the original Compressor or a new rotor compressor for better efficiency.
Suspension; all of the suspension components are replaced with OEM Mercedes-Benz parts including Springs, Bilstein Shocks,Subframe mounts,Shims.
Steering; the steering box is rebuilt, steering pump too, all of the Steering components are replaced for new OEM including rods,ends,bushings,shocks.
Brakes; new rotors, new pads, new lines, rebuild calipers, restore system.
Electrical; all of the electrical system is check and verified for perfect functioning, we replace any wires or harness if needed for proper functioning then cover with special factory cloth tape as it came from factory, we place new clamps, clips
Gauges: are sent to the VDO facility for restoration and then put back together with new glass and trim.
Radio is sent to Becker of North America to be rebuilt and the customer has the option of adding Bluetooth to the original Becker Radio.
Chrome; the chrome is sent to refinish, all of the Body trim parts are replaced for new, New windshield and trim around it, door sills are replaced for new, all of the body gaskets, rubber seals grommets are replaced for New OEM ones including the firewall pad.